Welcome to "How To Live Like You're Traveling" series, where we explore what is it that makes us happy when we travel and how to achieve this happiness in our everyday lives. Join us on this adventure, and write out your very own travel day that stands out in your memory using this template in part 1 of the series.
In this Part 2, we are going to break down one of my favorite travel days to see what makes us happy when we travel and if these elements are transferable into our everyday life.
Let's take a look at a favorite travel day together...
The Set-Up
Family vacation in France, staying at the lovely Les Mathes Camping in a delighful mobile home, as one does.

The Characters
• Alla - that's me!
• Vito - my other half
• Mo - our delightful oldest son
• Vin - our equally delightful youngest son
• Dan - my high-school sophomore brother visiting from NY
 
1 - Waking-up
How did you wake up? When? What did you do?
We were woken up by Vin who must have been treckking through the Sahara desert during the night judging by his thirst. Once the milk bottle was in hand we were able to continue waking up propensed by Mo who decided to contribute to the process by running into our room and joining us all in bed. Mother's joy is complete... when all children are within an arms reach!
 
2 - Breakfast
Think about your first meal, what did you eat, who did you eat with? How did you feel about the coming day spread out ahead of you?
Breakfast would usually start with a walk to the little market together with Dan. We would talk about life and universe and so on and so forth. My brother is totally smarter than me... and better looking. At the market we picked up freshly baked croissants, with chocolate for me, plain for Mo and Vito, and a pecan pastry for Dan and a baguette for everyone. Back at the house we'd sit down at our little table to eat and plan our day. (Well, usually I would just tell the family what I wanted to do and expect complete and immediate agreement.)

3 - First part of the day
Write down everything you did in the first part of the day. Did you sight see? List all the activities and think about how they made you feel.
We (I) decided to drive over to La Tremblade, a little fishing village to just check it out. A quick google search revealed very little information about the town so we had absolutely no idea what to expect. Plus, it just so happened to be Bastille Day, and judging by other towns we drove by on the way, everything in La Tremblade would be closed. Lo and behold we arrived to a PARTY. To our amazement the tiny town was filled to the brim with people! There was a market happening in the central square and many shops lining the streets were opened. We strolled and promenaded and bought presents for family back home.
 
4 - Lunch
One has to eat! What did you eat, where did you have lunch? Remember the tastes, aromas, views...
For lunch we sat down at one of the sidewalk cafe's ordered cappuccinos, and juices. The cafe we were at did not serve food but we noticed a long line next door at the bakery. We thought it would be a good idea to get in line and buy whatever it is they were selling in there. My brother and I joined the line to continue our earlier conversation about the universe. Mo joined us, and since I'm priming him to become aerospace engineer it's good that we expose him to the relevant topics early on. At the bakery there were all kinds of delights! We ordered baguette sandwiches and got a few different little cakes and pastries to try. They were delicious! We then sat, chowed, people watched and took turns taking bites of the pastries. Ahhh... On the way back to the car, we ducked into a very atmospheric indoor food market to get meat for a barbeque we decided to have for dinner. Mo was introduced to various sea creatures...
5 - Second part of the day
What did you do after lunch? How did you feel? Who were you with? Who did you meet? Why did you enjoy it?
After lunch we happily drove back to the house for a nap. Then it was time to grab towels and head over to the pool, the pool is nice, but you know what else is nice? The bar right next to it. So after an hour or so of splish splash, Vin and I headed over to the lounge to polish off a 51. Well, a 51 for moi, and Vin got a drink and a banana.
6 - Dinner
How did you decide what you will eat? Where did you have dinner? What did you eat, who were your dinner companions? What was your favorite part about this dinner?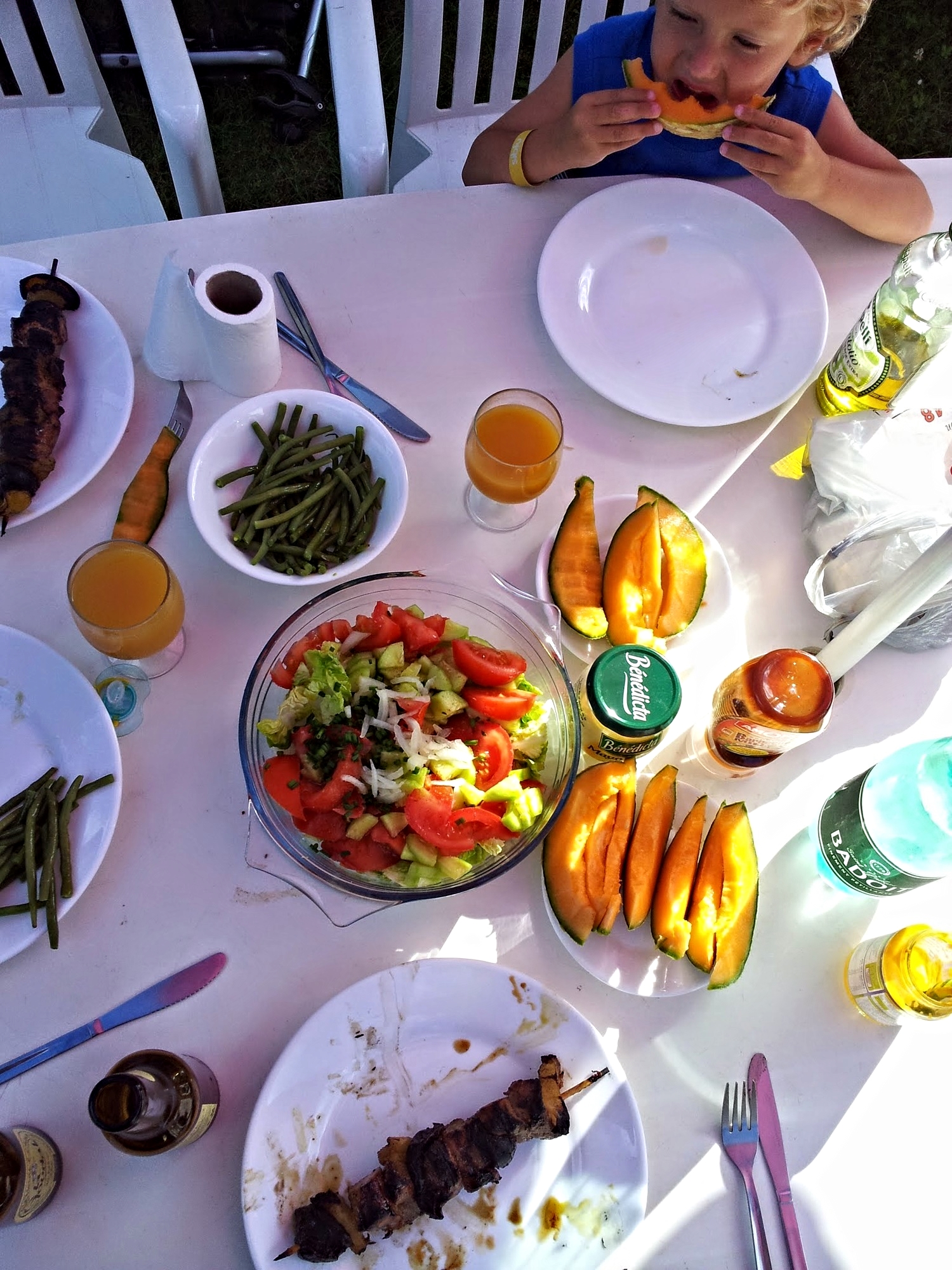 Dinner was a barbeque outside of our little home. The meat and the shrimp from the market were going to be our hero dishes. We tossed some salad together and cut-up amazingly sweet melon as side dishes. A couple of beers made the everything complete. Dan and Vito did the manly things like grilling and Mo, Vin and I did the rest, like chowing down on the sweet melon. It was sunny, we were eating al fresco, random things were hilarious for no reason, and everyone was happy!
 
7 - Evening time
What evening activities did you do? Did you do some more sightseeing, did you relax? Did you go to a party?
Remember how you felt. Embarrassingly enough Vito and I went to bed quite early. Dan on the other hand went to hang out with the neighbors, a rowdy French family.
 
8 - Night
Perhaps you stayed up all night? Or maybe just the opposite, you had the best night of sleep?
We did have a great night of sleep, with our little window open, hearing fireworks in the distance...
THE 6 ELEMENTS
So what DID we do all day to be so happy and was it directly tied to the specifics of the location? Let's inspect...
I think it's pretty clear that we spent quality time with each other all day. We had nothing else on the agenda but to spend time together. What and where was pretty much secondary.
The day started with us daring to discover something new and being pleasantly surprized stumbling in on a local town Bastille Day party.
Something important to notice is that we did not have a schedule, we did not rush, we did everything at our own pace. We took a nap, some of us read, having a drink.
We all got creative. I took photos, Dan wrote in his blog. Vito read a novel. We got creative in our own ways and took on activities that we immersed ourselves in.
We spent most of the day outdoors.
We frolicked at the pool, and walked a lot.
Which elements were most abundant in YOUR travel day?
These six elements were in abundance during my travel day. It turns out that all the elements had nothing to do with the actual geographic location. In the next installment of How to Live Like You're Traveling, we are going to look at the science behind these elements and why they make us happy.
• • •
Get everyday adventure ideas @LiveLikeYoureTraveling