Nature has this way of removing the noise and allowing our inner guidance to be heard with greater clarity. You may feel its pull to ground you in the present while witnessing the sun disappear into the horizon or observing the power of the ocean crashing against cliff rocks beneath your feet. You may even have had an epiphany or two while facing the edge of the world. It's so fundamental to creating a heightened sense of wellbeing that it's one of our 6 Elements to Living like You're Traveling.
But we don't necessarily have to be in exotic lands to regain a connection to the natural world. Sometimes all it takes is a short jaunt just outside of your city. Curious to explore nearby getaways just outside of Chicago, my boyfriend and I recently headed to the Lake Geneva area. In partnership with the Ridge Hotel, we discovered 5 multi-sensory ways to immerse yourself in nature...
--
Photos by Mu-Hsien
1 - Wake up to a Room with a View
Find a sanctuary away from home and go for inspiring views and cozy making amenities. Where you stay can play an essential part through out the day, whether serving as a place for a mid-day recovery, an evening in or even a purposeful slow morning.
No matter where you are, at The Ridge, you are reminded of nature's beauty. Nestled over the treetops in front of Lake Como, our views from our junior suite instantly immersed us in the serene setting. Spring was just settling in. The air was still a bit chilly and a little wet. Yet despite the weather, with a fireplace, it was always cozy inside. We could imagine how nice it would be to be back during the summer, sipping on drinks in the garden or around the fire pits at Bar 55 while the sun slowly sets.
The Ridge is going through a major transformation. After 1.7M worth of upgrades, the previous rustic resort style is transitioning to become one of the only modern, boutique hotels in the Lake Geneva area. Take a peek at all the new artisan dining and modern amenities.
• • •
2 - Get Outside...obviously!
While there are many obvious choices, such as hiking or getting out on the water, the key is to try something new when you can. My boyfriend is a big fan of golf, so I was especially intrigued to explore the award winning golf courses at the Geneva National Golf Club just across Lake Como from The Ridge.
Hanging with the locals can sometimes mean sharing the land with the wildlife. We stopped our golf cart to let a crane cross the path, saw a wild turkey running off in the distance, and watched a family of geese carefully gliding into a pond together. If a taste of a midwestern safari would pleasantly surprise you, then you'll love the three scenic courses designed by the masters, Arnold Palmer, Gary Player and Lee Trevino.
TIP: For the most undulating hills and integrated landscapes, go for the Gary Player course.
• • •
3 - Eat Local & Seasonal
Eating closer to the source just tastes better and your body simply thanks you for it. Lead by a local, in this case Chef Ryne of Hunt Club Steakhouse. Chef took us foraging for morels to show us a patch that he and his team had just scoped out. Turns out it's also an area in the woods where they get inspiration for dishes and hold their morning prep meetings.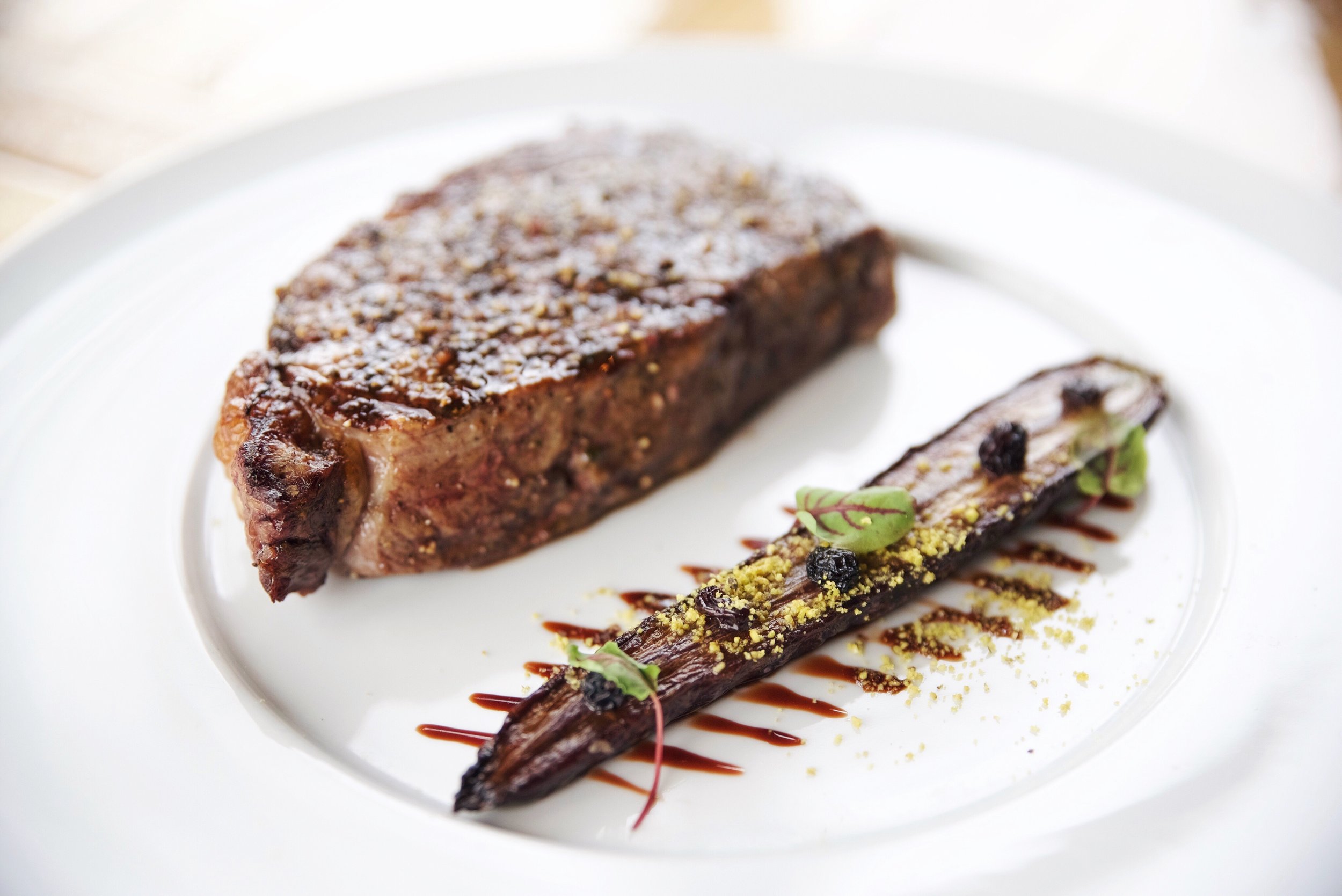 Foraging and cooking straight from the restaurant's gardens is a daily part of composing dishes at Hunt Club. While it's a steakhouse, at it's core Chef and his team source the best local to Wisconsin ingredients. After listening to Chef Ryne talk about what's in season...fava beans, asparagus, ramps, pea shoots, we immediately made the connection with our palettes dining on a selection of fresh appetizers including the Spring Fling Salad. Taking our sweet time, we happily sipped a bottle of Honig's 2013 Napa Valley Cabernet as day turned to night. It went well with the Ribeye, which had our full attention after the first bite. Both of us savored slice by slice in awe of the simplicity, yet fullness of flavor.

TIPS: Don't play it safe! Try the seasonal items and go for the unique cuts of meat. Also, ask for a seat in the back overlooking hole #6 and #10 of the Gary Player Course. The views are stunning!
• • •
4 - Go Star Gazing
Nature has a way of making us feel small, while tapping us into the connectivity of the greater world that surrounds us. Star gazing has a way of taking us outside of the little box of focus in our everyday, helping us to think about the bigger picture and activate a child-like sense of awe!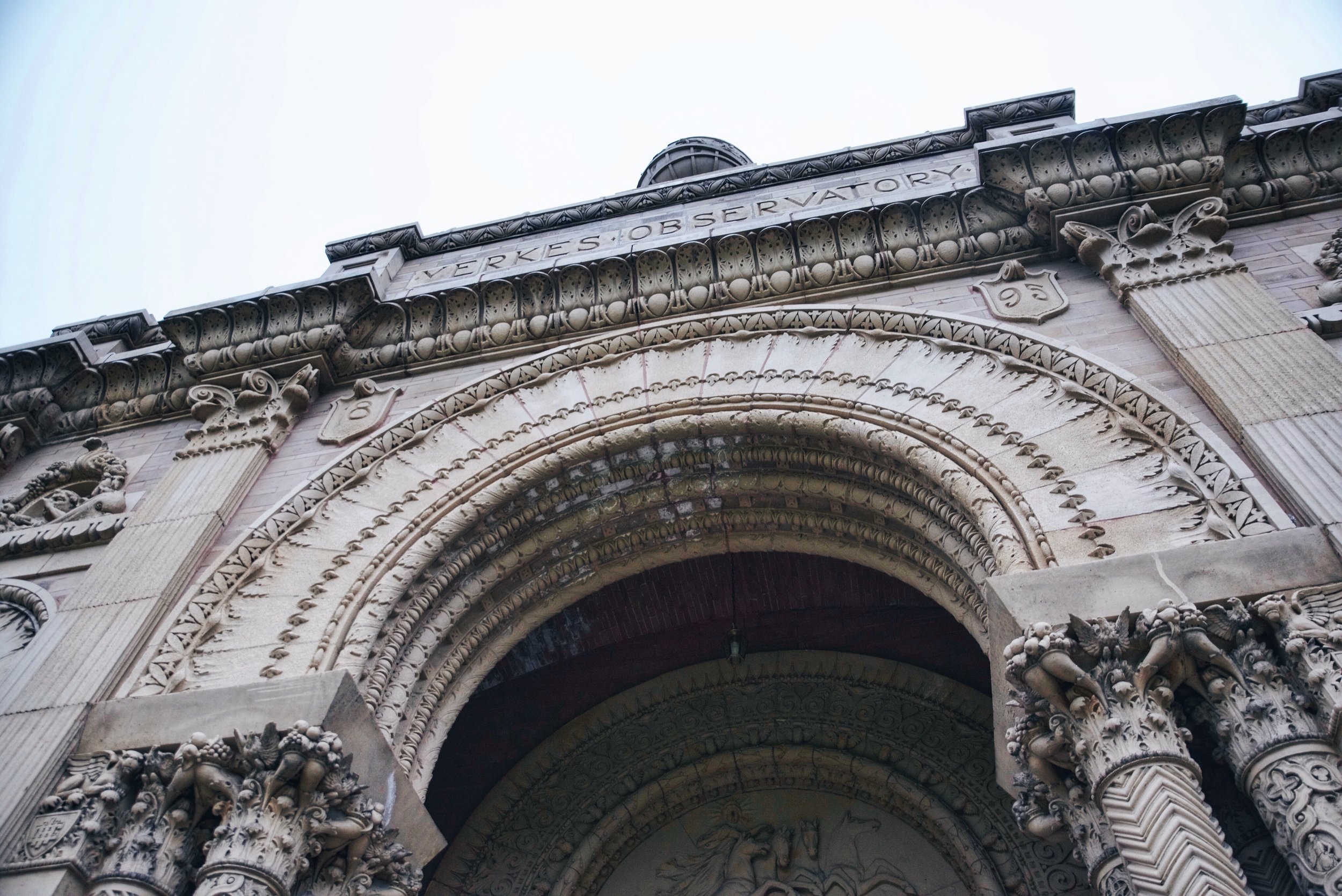 Just on the northwest side of Geneva Lake, is a hidden gem, the Yerkes Observatory. It happens to be home to the largest refractor telescope in the world, where Einstein once visited and proved one of his key theories. Even 100+ years after it's introduction at the World's Columbian Exposition, it's still used to capture images for researchers and educational programs. (Moon photo via Yerkes)

TIP: Reserve an observing session. On a nice clear night, star gaze and view the moon, planets and galaxies through one of largest telescopes you'll probably ever encounter in person.
• • •
5 - Take The Scenic Route...by Scooter!
Ahh... the carefree feel of wind in your hair. Stop and explore based on your impulses. Get to know the Lake Geneva through the rustic back roads.
It started to rain by the time we headed to Scoot Jockeys. It was just too windy and chilly to enjoy the ride, but we did get a chance to go for a practice run. Note to self: look in the direction that you're turning in! Left turns were a little awkward at first, but we got the hang of it. Sometimes it's a good thing to miss out on something that you wanted to try, as it leaves you with a reason to go back!
TIP: Tours are available, but If you want to explore at your own pace, rent a scooter and pick from one of their maps for scooter-friendly routes.
• • •
At the end of our 2 days, I already felt a noticeable release of tension in my body. It dawned on me just how much of a positive effect being in a natural setting is for me. As we drove back, we noted how easy of a 90 min drive it was and were already discussing what we'd like to do when we visit again!
---
This post is in partnership with the participating brands mentioned. All tips and opinions are my own.